We are a dynamic team of different ages and with different backgrounds with an unconditional love for what we do
We are an event and wedding planner agency with a dynamic team made up of professionals of different ages and backgrounds, all features which make us an efficient working team. If you have no idea of how much an event costs or you don't know how to organize your wedding, we will draw up a customized project to help you out. Thanks to the differences in our abilities and personalities, we make weddings in Tuscany for Italian and foreign couples, both heterosexuals and homosexuals, we take care of civil, religious and symbolic weddings in any location the spouses want: a castle, a villa, a farmhouse rental, on a beach. As regarding the world of events, we organize inaugurations, corporate and private events, photographic contests, we rent musical instruments, tensile structures and inflatables for children. For any other query or information, do contact us and we'll be happy to answer you!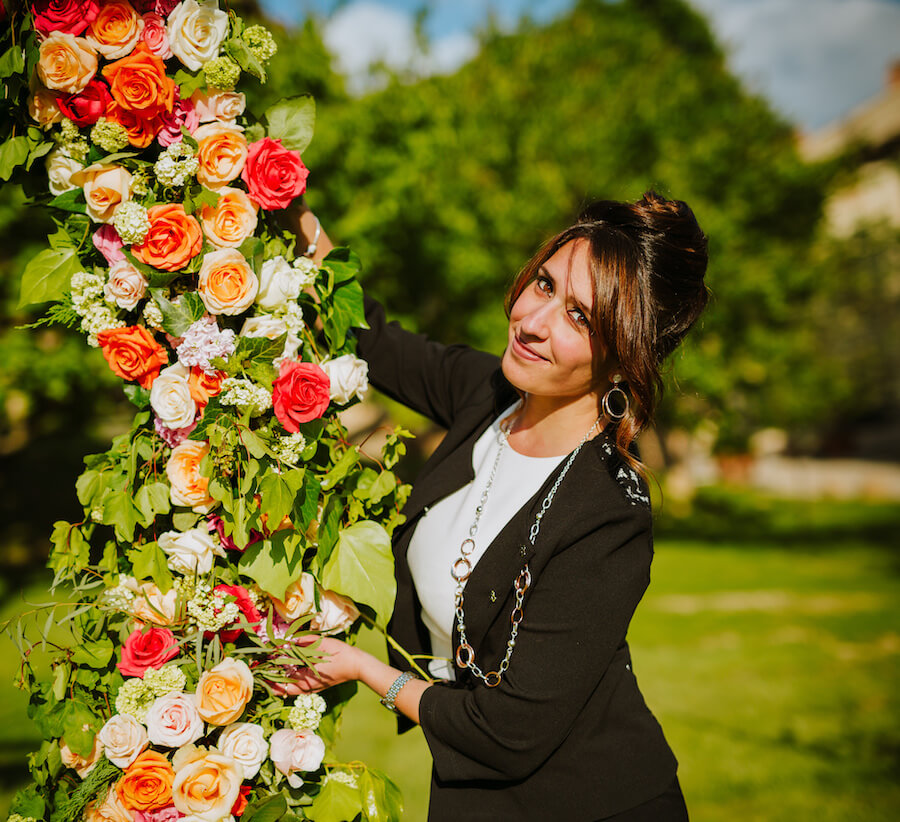 Sara
Founder of Solevents events organisation agency, Sara graduated in Planning and Management of Events and Arts and Performing Arts Enterprises at the University of Florence. She started training as a wedding planner in 2010 at the "Istituto Sviluppo Professionale Italia S.r.l."; she then broadened her knowledge in 2013 by attending meetings organized by Studio Kronos Consulting of Dr. Natalina Villanova, President of the Italian Association of Wedding Angels.
Born 15 kilometres away from San Gimignano, she has been living along the road which leads to Castellina in Chianti since 1996 and retains herself to be very lucky because she wakes up to the rooster every morning. She has always moved to various areas of Tuscany for study and work and her strong point is, without doubt, her knowledge of the area. In time, she has built a solid network of contacts and collaborators and is now able to advise on the most suitable locations and suppliers according to the event or wedding the customer desires.
She chose the name "Sol-events" for her agency for various reasons. "Sol" is the poetical abbreviation for "sun" in Italian which is the symbol of Tuscany together with cypress trees and represents an innate characteristic, radiance, essential for a good organizer of events and an empathic wedding planner. "Sol" is also a musical note and symbolizes an orchestra, a group of people bringing all their qualities together to reach an extraordinary outcome. And finally, "Sol" is also the first part of Sara's surname which is "Sollazzi". These are the foundations upon which the agency and its team have been built: experience, positive attitudes, team work, ability to listen and problem solving.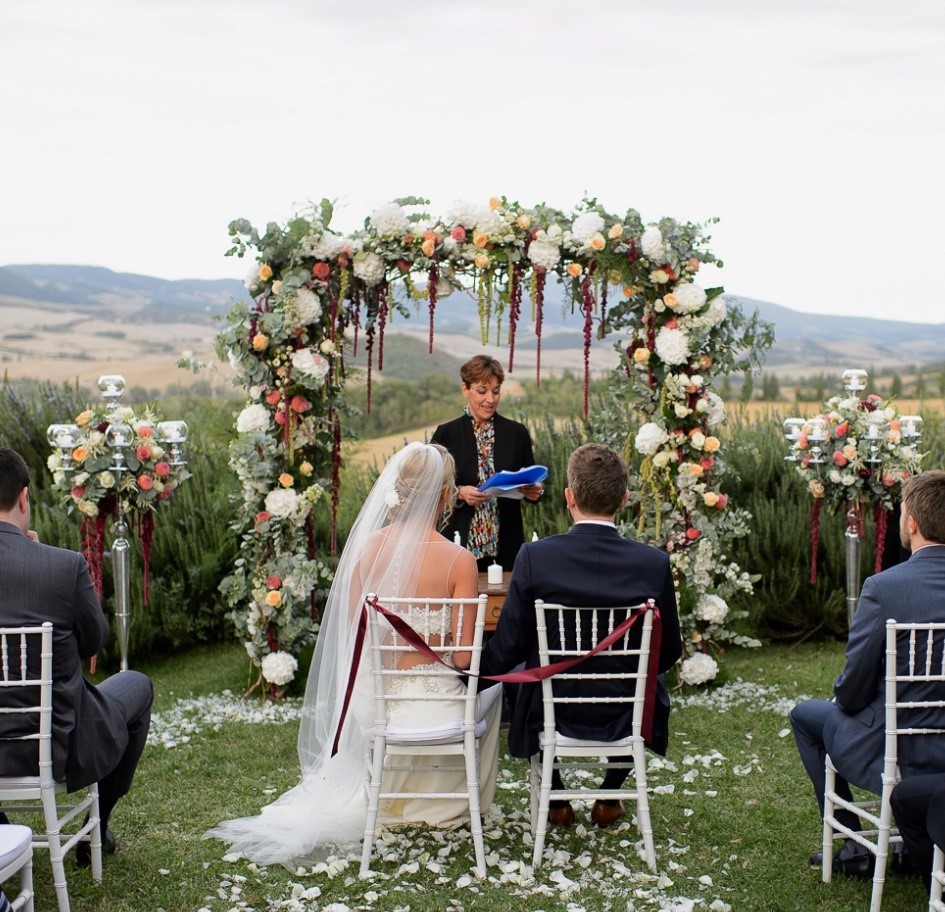 Cinzia
Her experience with weddings started in 2005 as event coordinator at one of the most well-known agencies specialized mainly in weddings of foreign couples who chose Italy for their wedding!
Born in the city of Romeo and Juliet, Verona, she likes to think that that is where her passion for this great job comes from! From her various journeys and trips abroad she has developed a natural flair for communication which well exceeds simply knowing languages, useful to easily get onto the same wavelength with people of different nationalities and understand their needs.
Always in a good mood and ready to smile, this natural predisposition makes her carry out all the bureaucratic work in a precise way and, at the same time, stress-free for the couple.
She carries out her work as Celebrant of lay ceremonies for both hetero and homosexual couples with great professionality, customizing them with the couple in the languages she speaks fluently: English, French and German.
As a Wedding Planner she likes to take care of every detail of the event or any setbacks without anxiety and without ever forgetting that each couple is unique, just as unique is their special day!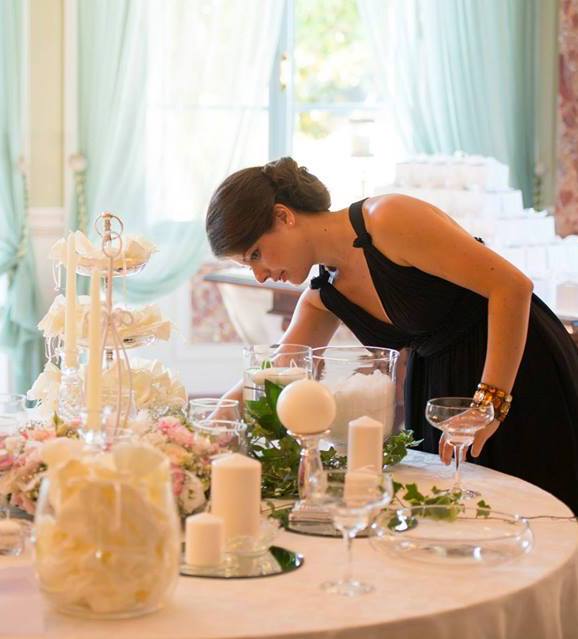 Claudia
A volcano of ideas and lover of good taste, Claudia comes from Livorno, a maritime city boasting one of the most important ports in Italy, an international trading and tourist landmark ever since the 16th century.
She describes her days as "heterogeneous" because she like moving from one place to another in search of new incentives, original ideas, interesting tips to develop and put to good use in her job.
Her strong points are surely creativity and manual skills. With a long history of artistic studies behind her shoulders and an innate curiosity, she is a careful observer. She's expert at planning and at the creation of a tableau marriage, place cards, photo booth and all kinds of settings, aspects she manages with perfection and dedication.
She keeps a particular eye on food and the table during the events. Indeed, she believes that substance is not enough in wedding planning but also the form is essential: we do not just give a service but an emotion.