5 July 2018
Have you ever sent a postcard of a typical Tuscan landscape? I think you have done it already. People who visit Tuscany always fall in love with the views, the food and the Italian lifestyle because here they discover something very hard to find anywhere else: peace. Some Italian couples too can't get used to experiencing these kind of things and it might sound strange because… they were born here! On the contrary, I consider it an extraordinary feature because it means that, like children, they are still able to marvel at the beauty of nature. Let's snoop through the settings of a typical country Italian wedding planned for a beautiful Italian couple who love the countryside: Giulia and Valentino.
If you want to plan your country wedding in Tuscany, I'd be happy to talk with you https://www.solevents.it/en/contact/
THE RELIGIOUS WEDDING IN CHIANTI AREA
The wedding ceremony was set in a stunning country Parish Church in the Chianti area and it was adorned with wonderful country decorations. I set a corner with bales of hay and wooden boxes on which I placed a sign with "Welcome to our beginning" carved on it. After the touching religious ceremony, a group of doves were let out of a big cage by the newlyweds. In the Holy Bible the bride is compared to a dove and that is why the wedding dress is white like this snow white bird and it symbolizes the purest and the most faithful love humans can feel.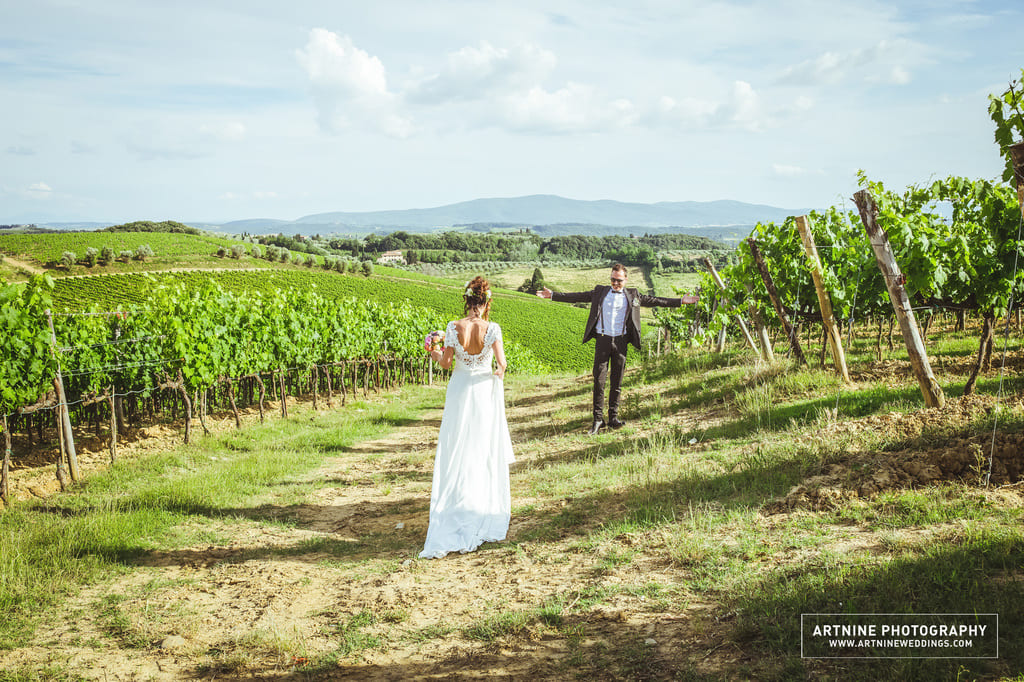 THE WEDDING RECEPTION NEAR SIENA
While my sweet couple, Giulia and Valentino, were doing the wedding photo shoot among the Tuscan hills, the guests waited in the country farmhouse sipping cool drinks and apertifs by the pool, enjoying the fresh air. It was a pleasure for me to get the details done too: each table was called with a different kind of honey and the name of the honey was carved on the wood… it was shaped like a honey pot! Fabulous! The seating plan and the menu were carved on the wood too and they were pinned to a rustic wooden ladder. Everything was branded with the letters "V" and "G" for "Valentino" and "Giulia"… never leave anything to chance!
THE WEDDING DINNER AND THE WEDDING PARTY
The tables at the wedding dinner were placed like an amphitheatre with the guests in the stands and the bride and the groom in the middle of the scene. The dinner table of my Mr and Mrs was "floating" on the surface of the pool; my team and I built a special platform and we made it from scratch… what can I say? Everything is possible with a great team! A sparkling wedding can't be without romantic fairy lights twinkling against the night sky… it was the icing on the cake!
For my dedication to Giulia and Valentino take a look here https://www.solevents.it/en/per-giulia-e-valentino/